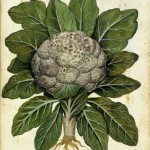 Cauliflower Steaks
This recipe comes by way of Spring Barns Farm, a centre for sustainable agriculture outside New York where the chef Dan Barber has been instrumental in encouraging chefs and diners in the US to think about what's on their plates, in the most delicious ways. This recipe uses American cup sizes, if you don't have a cup measure, it's about 2/3 of an English mug.
1 head of cauliflower 1 1/2 cups water 1 cup whole milk (or non-dairy milk) 2 tablespoons vegetable oil plus more for brushing
Heat oven to 180 degrees. Using sharp heavy knife and starting at top centre of cauliflower head, cut two 1-inch-thick slices of cauliflower, cutting through stem end. Set cauliflower steaks aside.
Cut enough florets from remaining cauliflower head to measure 3 cups. Combine florets, water, and milk in medium saucepan, and sprinkle with salt and pepper. Bring to boil and cook until florets are tender, about 10 minutes. Strain, reserving 1 cup cooking liquid.  Transfer florets to blender, add half of the reserved 1 cup cooking liquid and puree until smooth, adding more of the liquid if desired.
Heat 2 tablespoons vegetable oil in a heavy frying pan. Brush cauliflower steaks with additional oil and sprinkle with salt and pepper; add them to the pan and cook until golden brown, about 2 minutes per side. Transfer the steaks to a greased oven dish and bake until tender, about 10 minutes.
Re-warm cauliflower puree over medium heat. Divide puree between 2 plates; top each with cauliflower steak to serve.