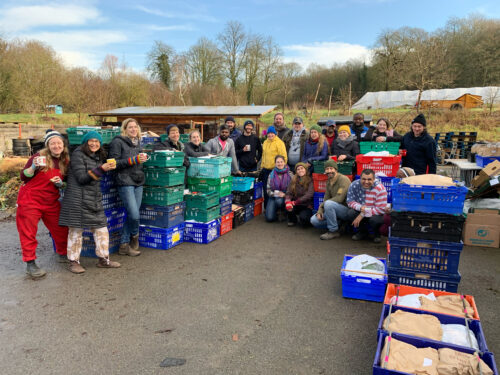 About the OrganicLea Box Scheme
We deliver affordable local, seasonal organic fruit and veg bags to pick-up points in your neighbourhood from £9.10 per week. Delivery to pick-up points helps us keep emissions and costs down, plus helps build local community.
OrganicLea is an important community hub that provides a range of opportunities for people in the local area to grow and develop skills. We have a mission to improve our community and to inspire wider social change.  Through buying from OrganicLea you are helping to support this. Our 'box scheme' – paying the same amount every week for a week's supply of fresh local produce – is the best way of getting hold of good value organically grown produce that's as local as possible.  It's a shopping choice – but it's also one of the strongest actions you can take to strengthen the economy of your community and support farmers near you. See for yourself with this short film about our box scheme.
How it works
Simply choose which bag(s) you'd like, whether you'd like a weekly or fortnightly delivery, and which of our pick-up points you'd like to collect from, then sign-up online and make your payment. We start delivering your bags as soon as we can – in most cases, the following Wednesday.
The bags are available to collect from Wednesday or Thursday afternoons, depending on the location. You have until Saturday evening to collect your bags – after that, uncollected bags are redistributed to a local food waste organisation to minimise waste.
Payments are taken weekly. We accept Healthy Start vouchers and run a Solidarity pricing scheme where those who can are encouraged to pay a little more for their bags, and those who need it are encouraged to take a discount.
Holidays
You can book holidays through your online account. You have the option of a) donating your bag to a community food distribution project, or b) we don't charge you for the week you're away. We need a few days' notice (deadline is 9am Monday) to make any changes to your order. If you miss the cut-off, how about getting a friend to pick up your bag and try our veg for a week?