Email and telephone numbers
General Enquiries
info@organiclea.org.uk
020 8524 4994
Box Scheme
Fresh, sustainably grown fruit and veg every week in your neighbourhood. Find details here or contact:
box@organiclea.org.uk
Farm Stall
Seasonal, organic fruit and veg plus some dried and pantry goods. Located inside the main building of our Hawkwood site, the stall is unmanned (self-service, with cash preferred but cards accepted too) and is open between the hours of 10-5 on Thursdays and 10-4 on Fridays.
Training
We offer a range of structured placements and formal training courses, including accredited horticulture courses. For more information, please contact courses@organiclea.org.uk
Volunteering
We have a vibrant and diverse volunteer community.  If you would like to volunteer, please contact volunteering@organiclea.org.uk
If you would like to refer someone, or organise a programme specific to your group, please contact info@organiclea.org.uk
Schools and young people
We can offer school visits, activities within schools, teacher training and  programmes for young people.
We also offer tailored programmes for pupils with Special Educational Needs (SEN) and in alternative provision at our site and within schools. Please contact: schools@organiclea.org.uk
Community Food Growing
OrganicLea supports food growing projects in the community. To find out more contact: info@organiclea.org.uk
Plants
Our main plant season is from April to June, with winter plants for sale in August and September.  Any enquiries please contact: plants@organiclea.org.uk

Getting to Hawkwood Plant Nursery
Growing site for Organiclea
Address: 115 Hawkwood Crescent, Chingford, E4 7UH
The plant nursery is at the very top of Hawkwood Crescent with large iron gates leading in. Hawkwood Crescent is off Sewardstone Road (A112).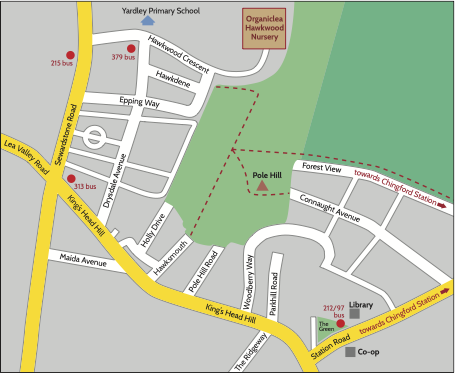 Taking buses, trains and bicycles to Hawkwood
From Chingford Train Station: From outside the station take bus 379, every 15 minutes (every 30 minutes on a Sunday). Get off at Yardley Primary School on Hawkwood Crescent (very end of Drysdale Avenue) and walk up the road to the Plant Nursery – 2 minutes walk.
From Walthamstow Central underground: Take bus 215 from Walthamstow Central bus station which goes via Hoe Street, The Bell, Billet Roundabout, Chingford Mount Get off on Sewardstone Road, at the Hawkwood Crescent stop. Cross this main road and walk up Hawkwood Crescent – the Plant Nursery is at the very end. About 5 minutes walk from the bus stop.
Other local buses: The 313 stops at the end of Drysdale Avenue, other end to Hawkwood Crescent. This bus connects to Potters Bar, Enfield, Southbury and Ponders End rail stations. The walk from this bus stop is 10 mins.
By bicycle: The River Lea towpath guides you from lower Walthamstow and North Hackney (Clapton); get off just before Ponders End lock and turn right into Lea Valley Road. Turn left at main traffic light junction into Stewardstone Road. Hawkwood Crescent is a turning about 500m along on the right.
Walk through the woods from Chingford Station
It's a beautiful walk through Epping Forest to Hawkwood Nursery, about 20 minutes. Download the description here and see map above.