The summer flower season is here and, while spaces on our Flower Scheme for 2021 are now sold out, you can still buy one-off bunches to bring summer into your home while helping to fund our ongoing work supporting wild pollinators.
Conventional cut flowers greet us in every supermarket, but over 85% are imported, mostly air-freighted from Kenya, and grown using copious amounts of chemical fertilisers and pesticides (including the highly toxic DDT) – meaning that even the smallest bunch comes with a huge environmental and carbon cost.
We're growing a range of beautiful and locally grown cut flowers that are truly sustainable, organic and ethically grown, and as (or even more) attractive to the wild bees as they are on your kitchen table.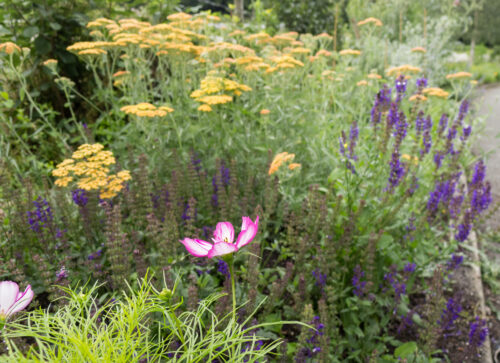 Note from our flower grower Sara: "Last year we grew a mix of native and naturalised wild flowers to support a diversity of pollinating insects from hoverflies to mining bees. Flowers were chosen to provide both habitat, in the form of landing pads and sunning spots, and a diversity of shape and sizes to match the diversity of tongue lengths of our 270+ native bees. Native wild flowers such as yarrow, knapweed, viper's bugloss, wild carrot and ox-eye daisies all proved long lasting as cut flowers and we had some lovely reviews from our supporters. This year we are expanding our range of flowers with planting alongside our new strawberry beds and around two new wildlife supporting ponds, hopeful highlights include aquilega, water avens and toad flax."
One-off bunches
You can support this project by buying one-off bunches for £20, for yourself or as a gift that can be collected from one of three locations. These need to be ordered by Wednesdays by 1pm and can be picked up from the Hornbeam or Leytonstone stall on Saturday between 10am and 3pm, or on Friday after 1pm from our growing site in Chingford. Please email tsouni[@]organiclea.org.uk to place your order.
Special occasion?
The bunches we're offering are simply harvested and gathered without arrangement. If you're looking for flowers for a special occasion, we can provide seasonal, sustainable and locally grown bouquets, buttonholes, arrangements or buckets of seasoned flowers for you to work with. Drop a line to tsouni[@]organiclea.org.uk to discuss.