The summer flower season is almost here and we have an exciting scheme to bring summer into your home while helping to fund our ongoing work supporting wild pollinators. Last year at Hawkwood we launched our seasonal freshly cut flowers bunches from our newly planted Bee Border. This year we're expanding the scheme with more pick-up points in Waltham Forest.
In a Community Supported Agriculture (CSA) scheme, supporters buy a share of the produce ahead of the season. For us, this means we know in advance how much funding we have towards growing pollinator plants and can put the work in upfront.
Conventional cut flowers greet us in every supermarket, but over 85% are imported, mostly air-freighted from Kenya, and grown using copious amounts of chemical fertilisers and pesticides (including the highly toxic DDT) – meaning that even the smallest bunch comes with a huge environmental and carbon cost.
We're growing a range of beautiful and locally grown cut flowers that are truly sustainable, organic and ethically grown, and as (or even more) attractive to the wild bees as they are on your kitchen table.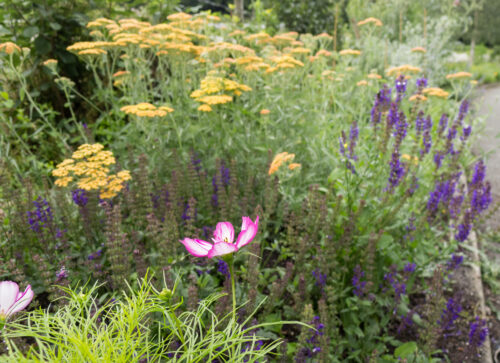 Note from our flower grower Sara: "Last year we grew a mix of native and naturalised wild flowers to support a diversity of pollinating insects from hoverflies to mining bees. Flowers were chosen to provide both habitat, in the form of landing pads and sunning spots, and a diversity of shape and sizes to match the diversity of tongue lengths of our 270+ native bees. Native wild flowers such as yarrow, knapweed, viper's bugloss, wild carrot and ox-eye daisies all proved long lasting as cut flowers and we had some lovely reviews from our supporters. This year we are expanding our range of flowers with planting alongside our new strawberry beds and around two new wildlife supporting ponds, hopeful highlights include aquilega, water avens and toad flax."
How does it work?
To become a supporter of our BeeWild Bunches, buy a share of seasonal cut flowers from our BeeWild border from June through to September. You can choose to receive your flowers weekly or fortnightly and they work out at around £15 per bunch, a saving of 25% per bunch.
These bunches will be available to collect from 4pm on Wednesdays from The Hornbeam Cafe in Walthamstow, the Rose and Crown pub in Walthamstow, the Community Larder in Highams Park or from 3pm at our Hawkwood growing site in Chingford.
We ask for payment for the whole flower season to support our work, so if you're going on holiday at some point, why not have a friend collect and enjoy your flowers while you're away?
Join our Flower CSA now
18 weeks of fresh flowers, from 2nd June through to 29th September: £270
Biweekly (9 weeks): £135
Once, you have sent the above form, click the payment link below so we can process your payment:
One-off bunches
You can also support this project by buying one-off bunches for yourself or as a gift that can be collected from one of three locations. These cost £20, need to be ordered by 1pm on Wednesdays and can be picked up from the Hornbeam or Leytonstone stall on Saturday between 10am and 3pm, or on Friday after 1pm from our growing site in Chingford.
Special occasion?
The bunches we're offering through our CSA programme are simply harvested and gathered without arrangement. If you're looking for flowers for a special occasion, we can provide seasonal, sustainable and locally grown bouquets, buttonholes, arrangements or buckets of seasoned flowers for you to work with. Drop a line to tsouni@organiclea.org.uk to discuss.