The summer season is here and we are once again selling our cut flowers, through our Flower Scheme as well as the option to order one-off bunches. Bring summer into your home while helping to fund our ongoing work supporting wild pollinators.
Conventional cut flowers greet us in every supermarket, but over 85% are imported, mostly air-freighted from Kenya, and grown using copious amounts of chemical fertilisers and pesticides (including the highly toxic DDT) – meaning that even the smallest bunch comes with a huge environmental and carbon cost.
We're growing a range of beautiful and locally grown cut flowers that are truly sustainable, organic and ethically grown, and as (or even more) attractive to the wild bees as they are on your kitchen table.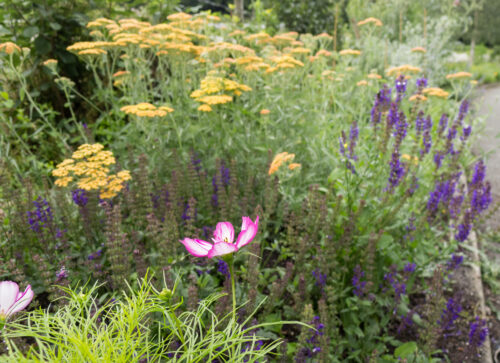 Note from our flower grower: "Last year we grew a mix of native and naturalised wild flowers to support a diversity of pollinating insects from hoverflies to mining bees. Flowers were chosen to provide both habitat, in the form of landing pads and sunning spots, and a diversity of shape and sizes to match the diversity of tongue lengths of our 270+ native bees. Native wild flowers such as yarrow, knapweed, viper's bugloss, wild carrot and ox-eye daisies all proved long lasting as cut flowers and we had some lovely reviews from our supporters. This year we are expanding our range of flowers with planting alongside our new strawberry beds and around two new wildlife supporting ponds, hopeful highlights include aquilega, water avens and toad flax."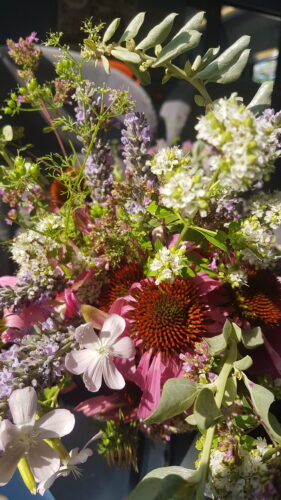 Details:
The flowers will be delivered on Wednesday, between the 8th of June and the 5th of October, and you can choose to get a delivery each week or every second week.
A weekly delivery is £270 in total as a one-off charge (or 4 monthly payments of £70).
A bi-weekly delivery is £135 in total as a one-off charge  (or 4 monthly payments of £35).
To Join Our Flower Scheme, Sign-up Here:
To join the Flower Scheme, the first thing you have to do is click this link to set up your payments. We take the payment(s) using Direct Debit, whether you choose to pay in a one-off lump sum or if you would like to spread the cost over 4 monthly payments.
Once you've set up your payments, you just need to let us know your order details: