Organiclea  teaches and shares productive market garden skills at our market garden, Hawkwood Plant Nursery. About 25% of the produce in our veg bags and 10% on our market stalls are grown by our team here in Chingford. We believe our enterprise work can and should open up markets but for other local growers working to ecological standards – connecting the food we sell to wider urban and rural communities. Through weekly communication and co-operation we build relationships that create and support livelihoods, contributing to local economies.
Where ever possible, the produce in our Veg Bags is harvested to order on a Tuesday and delivered to you on a Wednesday. We aim to have the majority of our produce on our market stalls harvested on a Friday and on the stall Saturday. We believe short supply chains, freshness of produce means more flavour, higher nutritional value and longer keeping time in your fridge, reducing waste.
You can read more about our sourcing and growing ethics here
Here are the farms we work with to fill our veg and fruit bags and market stalls:
Hawkwood Plant Nursery:
An old council plant nursery blessed with a huge glasshouse, Organiclea's central growing site is 12 acres in size, with about 1.5 acres being used for productive market gardening. The site runs as a volunteer and training site, with weekly volunteer days, certified courses, work placements and aprentiship programmes. Our market garden specialises in mixed salad leaves, growing over 70 varieties of leaf each year. We also grow a wide range of produce through out the year for our Box Scheme, Market Stalls & for local restaurants, including broad beans, french beans, heritage tomatoes, cucumbers, beetroot, celery, garlic, oca, rhubarb, strawberries. Come visit and see what we do at our Open Days on the last Sunday of the month 12-4pm.
Hughes Organics
Grahame has been growing organically since 1982. In 1992 he began renting a greenhouse and some land at Walnut Tree farm in Bunwell, Norfolk. In the 1980's Grahame was selling to Supermarkets, but the 1990s recession lead him to seek other markets, becoming a founding member of Eostre Organics (Organic Farmers Co-op for East Anglia). Eostre found it's own life span dwindling 6-8 years ago, so Grahame and his wife Lizzie picked up the reigns and started a new incarnation of 'Hughes Organics' wholesaling produce from East Anglian Organic farmers to London box schemes along side their own greenhouse grown produce. Thanks to Hughes we have a diverse and solid group of farmers to work with including Breckland Organics (Norfolk), Capel Mushrooms (Suffolk), Riverdale Organics (Cambs), Woodland Organics (Lincs), Sweet Apple Orchards (Suffolk). Hughes also work with Phoenix Wholesalers for European fruit (and bananas!) and we are tending to use this option for our Fruit Bags more and more.
Sarah Green's Organics is situated in Tillingham on the east Essex coast, 50 miles east of London. Sarah Green is the third generation of her family farming in Tillingham with her mum and dad firmly involved in the operation. Sarah grows a wide selection of seasonal organic vegetables throughout the year supplying her own box scheme, London box schemes and twice monthly at Stoke Newington Farmers Market. We love Sarah's kales, spinach, romanescu cauliflowers, purple sprouting brocolli, broad beans and spring greens. Sarah grows, harvests and sells her produce with great care and attention to detail.
Brockman Family Farm (Perrycourt Biodynamic Farm)
The oldest Biodynamic farm in the UK, for over 50 years the Brockman family have been growing and selling their produce. They now also work with other local Organic farms to bring their produce in to London for box schemes and restaurants, as well as being regulars at Stoke Newington, Oval, Brockley and Herne Hill Farmers Markets. The milder weather of Kent means that during the late winter and 'hungry gap' (Jan-May), means they often have produce that our East Anglian counter parts don't, so over the last couple of years this relationship has proved invaluable to getting quality and diversity in the bags through out the year. Perrycourt also drive to Dover once a week to pick up European fruit from an Organic importer, some of which finds it's way into our Fruit Bags.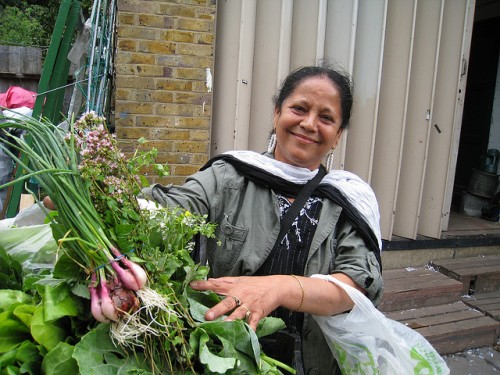 Core to Organiclea's work over the last 10 years has been supporting local allotment and back-garden growers to sell their surplus. In fact this is how Organiclea began! We work weekly with growers in Chingford, Walthamstow, Leyton, Leytonstone, Redbridge and Tottenham to sell their wares. Most of this produce is sold on our weekly market stalls as the quantities for our box scheme are that bit larger. But we aim to include produce in our box scheme from Cropshare growers when ever possible. In the last year this has included cherries, quinces, blackberries, red and white currants, oyster mushrooms, spinach, chard, herbs, heritage potatoes, african kale and brings a real diversity to our produce availability. Regular cropsharers include Mrs Begum, Sadique (Leyton), Gill & Fidelis (Tottenham), Lorraine (Redbridge), Ian & Julian (Chingford). This year we are launching a Cropshare training programme and are hoping to find more land and more markets for local growers.
The four-acre small holding is situated on an old council nursery site off Rainham Road North, towards the back of Central Park in Dagenham.  Much like Hawkwood Plant Nursery, the site is blessed with large greenhouses. Alice Holden and her volunteers grow primarily for Growing Communities box scheme in Hackney, but when she has surplus we are happy and excited to support her very delicious work.
Our occasional back up! Langridge Organics are a wholesaler based in New Covent Garden in Vauxhall. We find that we prefer the freshness of our direct relationships with Farmers and Growers -but we do value the role Langridge play in making Organic produce available all year round.