OrganicLea teaches and shares productive market garden skills at our market garden, Hawkwood Plant Nursery. Around 10% of the produce in our veg bags is grown by our team here in Chingford. We believe our enterprise work can and should open up markets for other local growers working to ecological standards – connecting the food we sell to wider urban and rural communities. Through weekly communication and co-operation we build relationships that create and support livelihoods, contributing to local economies.
Most of our produce is harvested a day or two before our bags are packed and delivered. We believe short supply chains and freshness of produce means more flavour, higher nutritional value and longer keeping time in your fridge, reducing waste.
We are a part of the network of Better Food Traders, working towards a more sustainable food system. You can read more about our sourcing and growing ethics here.
The produce in your bags comes from local growers including those from our Farm Start programme and Cropshare programmes; we strive to create distribution systems for fresh, seasonal and organic produce that allow growers to set fair prices. Produce is sourced as close to London as possible, and we directly support a number of small independent farms…
Sign-up now for weekly or fortnightly deliveries of our fruit & veg bags.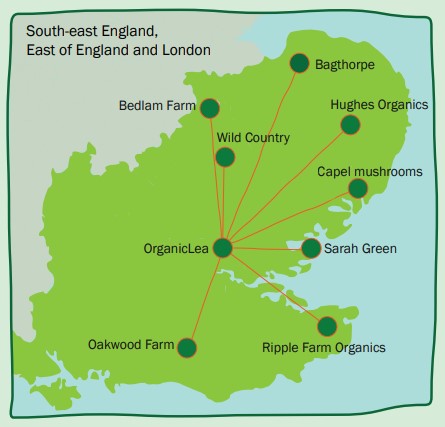 OrganicLea
We're based at Hawkwood Plant Nursery, an old council site blessed with a huge glasshouse. Our site is 12 acres in size, with about 3 acres being used for productive market gardening. The site runs as a volunteer and training site, with weekly volunteer days, certified courses, work placements and apprenticeship programmes. Our market garden specialises in mixed salad leaves, growing over 100 varieties of leaf and more than 40 kinds of edible flowers each year. We also grow a wide range of produce throughout the year for our Box Scheme and Farm Stall, including broad beans, french beans, heritage tomatoes, cucumbers, beetroot, garlic, rhubarb and apples. Come visit and see what we do at our Open Days.
Hughes Organics
Grahame and Lizzie Hughes have been growing organically since 1982. In 1992 they began renting a greenhouse and some land at Walnut Tree farm in Bunwell, Norfolk. In the 1980s Grahame was selling to Supermarkets, but the 1990s recession lead him to seek other markets, becoming a founding member of Eostre Organics (Organic Farmers Co-op for East Anglia). Eostre found its own life span dwindling 6-8 years ago, so Grahame and his wife Lizzie picked up the reins and started a new incarnation of 'Hughes Organics', wholesaling produce from East Anglian Organic farmers to London box schemes alongside their own greenhouse-grown produce. These days Grahame and Lizzie have slowed their wholesale work down, but still supply some wonderrful glasshouse produce to us including tomatoes, cucumbers and salad leaves.
Sarah Green's Organics is situated in Tillingham on the east Essex coast, 50 miles east of London. Sarah Green is the third generation of her family farming in Tillingham with her mum and dad firmly involved in the operation. Sarah grows a wide selection of seasonal organic vegetables throughout the year supplying her own box scheme, London box schemes and twice monthly at Stoke Newington Farmers Market. We love Sarah's kales, spinach, romanesco cauliflowers, purple sprouting brocolli, broad beans and spring greens. Sarah grows, harvests and sells her produce with great care and attention to detail.
You may have encountered Ripple Organics, a 14-acre farm near Canterbury, at Growing Communities' Farmers Market in Stoke Newington. Run by Martin and Sarah, they've been certified organic since 1989 and supply a much-appreciated range of leafy greens, along with potatoes at some times of the year, to our box scheme.
Oakwood Farm
Oakwood farm in Robertsbridge is one of only a few small licensed organic orchards in the Sussex High Weald. Owned by Matthew and Carol Wilson, the farm achieved full organic status in September 1999 and have been supplying a wonderful varieties of local and heritage apples and pears ever since.
Wild Country Organics have been certified organic by the Soil Association since 1998, when Adrian Izzard converted the small family farm to organic production. The farm has evolved into a dynamic modern organic market garden, growing an amazing range of seasonal vegetables – their greens especially appreciated by our veg bags.
Capel Mushrooms was established in 1962 and is now run by the founder's sons, Damian and Patrick Hearne. In 1988, faced with the problems of being a relatively small mushroom grower in an increasingly competitive market, Damian and Patrick took the decision to become organic, and have supplied mushrooms to our veg bags for many years.
Grower Metske runs a market garden out of Bore Place in Kent. He came onboard as one of our suppliers via the Better Food Shed in 2020, and has supplied us with beetroot, cabbage, celeriac, chard, fennel, lettuce, spinach, squash and swede. Metske says: "Last year was the first year here for me as an independent grower after working 2 years as an employee for Bore Place. I grown organic vegetables for 13 years near Hastings but as my lease was not renewed I had to look for another place to grow veg. Bore Place offered me an initial 2 year employment with the outlook to taking it on as my own. Moving from Hastings closer to London opened up the opportunity to get in touch with the Better Food Shed. First of all it is an joy to supply and trade with people who are in it for the right reasons, locally produced, respect for nature and the people who work the land. Thanks for that. I hope I can pay this back with good quality vegetables for years to come."
Bedlam Farms Organic, formerly known as HolmSelect, was born out of two family owned farming companies – M.F.Martin Ltd and Bedlam Farms. For four generations both companies have been at the forefront of farming in the Cambridgeshire Fens and in 2006 Clive Martin made the decision to convert one third of the farm into specialist organic vegetable production. We've bought some beautiful squash, fennel, asparagus and beans from them.
Bagthorpe Farm is situated in the beautiful unspoilt countryside of rural North Norfolk, situated close to Sandringham and Houghton Hall estates. Bagthorpe is a family-run 300 hectare mixed organic farm, growing fantastic organic vegetables including staples like potatoes, carrots and onions.
A family run organic farming business in North Yorkshire. With around 200 acres of organic land growing vegetables, including kalettes, carrots, cabbages, swede and celery.
Certified organic since January 2021, Wye Orchard in Kent supply fine summer veg like french beans, tomatoes, and courgettes.
Our occasional back up! Langridge Organics are a wholesaler based in New Covent Garden in Vauxhall. We find that we prefer the freshness of our direct relationships with Farmers and Growers – but we do value the role Langridge play in making Organic produce available all year round.
Stort Valley
One of our Farm Start graduates, Arron is now based near Roydon in Herts, but has been growing in the area for a couple of years now with the support of OrganicLea he has broken into new ground in Sawbridgeworth. He's been supplying us since 2017 with radishes, beetroot, lettuces,courgettes and more.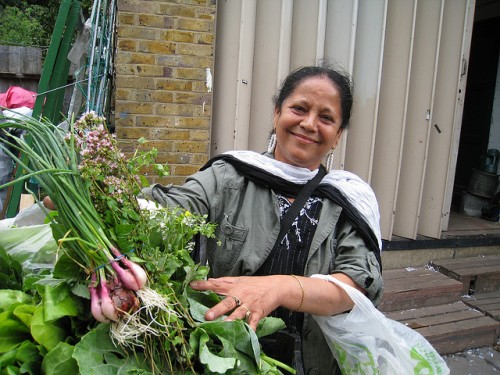 Core to OrganicLea's work over the last 10 years has been supporting local allotment and back-garden growers to sell their surplus and we aim to include produce in our box scheme from Cropshare growers whenever possible. In the last year this has included cherries, quinces, blackberries, red and white currants, oyster mushrooms, spinach, chard, herbs, heritage potatoes, african kale and brings a real diversity to our produce availability.