Plant Boxes are here again! We continue to support our communities to access and grow organic food. We're offering our Plant Box scheme for local residents to get a tailored mix of food plants with organic, veganic compost delivered in May and June. We now also sell separate bags of compost for seed sowing, potting on, container planting or general soil improvement.
Order Plant Boxes and compost here. Our cut-off date for ordering Plant Boxes is 16 May. But compost will continue to be available and we'll be back with winter plants for sale in September.
You can also buy plants and compost direct from our Farm Stall at Hawkwood Nursery on Thursdays and Fridays throughout May.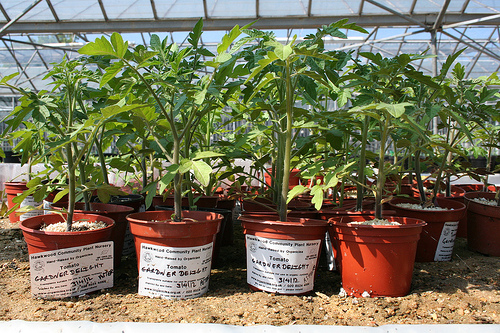 Our plants:
We grow all the plants ourselves in our glasshouse that we rent from the London Borough of Waltham Forest. Work is carried out by a team of growers including members of our workers' cooperative and lots of local volunteers who support the project's aim to see more food growing in London. Plants are taken from the glasshouses and acclimatised to the outdoors before being dispatched. The plants are strong and healthy, ready to compete with weed seedlings and garden pests!
What's available:
Our main plant season is from April to June, and then for winter plants it's August and September. We have popular favourites such as tomatoes, squash, courgettes and more on sale – plants that are hard to get started without a greenhouse, and we offer aftercare advice. We also sell a range of hand-made composts; seed compost, potting-on compost and organic garden compost.
We can respond to requests for larger orders from community groups which will usually be sown to order. Please get in touch if you'd like to discuss this. Our 2022 plant list is available here.
email: plants@organiclea.org.uk
phone: 020 8524 4994
Our Compost:
Our compost is hand-mixed* and bagged on our Hawkwood site by our production team with the support of learners and volunteers. It is 100% peat-free; certified organic by the Soil Association; certified veganic by the Vegan Organic Network and the result of over 20 years of perfecting the recipe. We believe it to be the most sustainable and affordable compost available in Waltham Forest. We are currently trialing compostable bags but you may still receive your compost in a plastic bag while we finish our old stock.  The bags are hand-tied with cuttings from a New Zealand Flax and delivered to your door by an electric van, or available to be collected.
We have four different types of compost available: seed, potting-on, container and green waste. These are available in bags ranging from 10-40 litre (approx.)
You can order here or buy from our Farm Stall on site.
If you want to find out more about our compost or have any questions, please email: plants@organiclea.co.uk
*Except Green Waste
Flower power
From June to October we sell cut flowers – fresh, organic, seasonal, local flowers that are beautiful and also in many cases edible! Details here.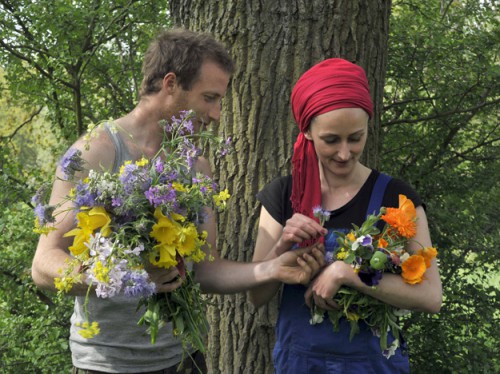 On getting seedlings through Organiclea's pre-order plants scheme:
"We've loved getting our seedlings and plants from Organiclea – from the friendly and convenient delivery to the variety and vigour of the plants, the service and the product have been excellent and I have recommended them to all the growers I know. This has saved us a lot of time and space which has been put to use on the people involved and the plants we already have. On top of that, it's exciting to await their arrival, plus, if you are really keen you can even go and visit them growing up at Hawkwood. Importantly, we like to know that we are supporting a local cooperatively managed organisation."
Alex Collings – gardening at Somerford and Shacklewell Estate, Hackney.
Along with many other accolades, this site was the winner of Capital Growth's Edible Estate competition in 2010.
Return your pots
Organiclea reuses plant pots. They can be returned to the Hawkwood Plant Nursery in Chingford, or the Hornbeam Centre in Walthamstow.
Adopt a fruit tree
Join Organiclea's Orchard Project and help us care for over 200 fruit trees in the London Borough of Waltham Forest. Click on the image for more information.