Sat, 25 Mar 2023 and Sun, 26 Mar 2023, 10:00-17.30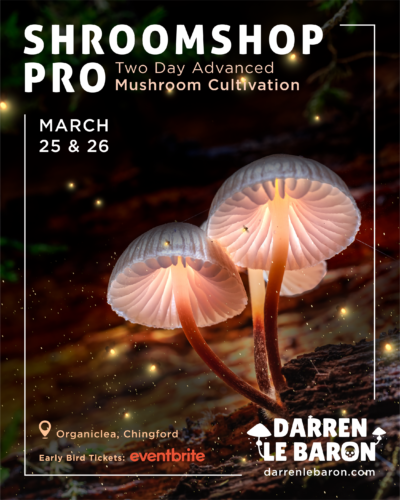 Mushrooms have been growing wild since prehistoric times. Their therapeutic value has been prized in indigenous cultures, for thousands of years. They play a critical role in medicinal practice and were noted in some of the first books on herbal medicine written thousands of years ago
In the past few decades, mushrooms have become more popular for their therapeutic qualities in the west as a result of an expanding body of scientific research supporting their numerous health benefits.
Come and expand your mushroom cultivation knowledge and learn new growing techniques in this 2 day course designed for people who already know the basics. It is perfect for anyone who has attended any of Darren's previous Shroomshops for Beginners. Being held at our Hawkwood site.
The course has been designed to support previous attendees with their next steps and progression on their mushroom cultivation journeys. If you haven't attended one of his beginners courses you can still join in. Darren will include mushroom theory on this course, plus teaching via a hands on experience covering:
🍄 Making your own spore prints
🍄 Making your own spore syringes
🍄 Making your own mycelium spawn
🍄 Working with grain and wood substrates
🍄 How to increase your yields
🍄 How to make liquid mycelium and spore slurries
🍄 Experimenting with various bulk growing techniques
🍄 Site Mushroom ID
We will also revisit but go deeper with some of the basics of mushroom cultivation, and use the weekend to reinforce previous lessons taught and address some of the challenges you may have faced so far. Participants only need to bring a pen and pad. Handouts and all training materials will be provided.
TIMINGS: Saturday & Sunday
Doors open: 10:00am
Start: 10:30am
End: 5:30pm
FOOD: Refreshments & Lunch Provided
ABOUT YOUR FACILITATOR
Darren Springer is a keen mushroom grower and teacher, having taught thousands of people in the last ten years how to grow their own edible mushrooms. He is Horticulture and Food Enterprise worker and tutor for and has translated his home growing experience into a commercial enterprise.