Inspired by Ru's Growing In a Time of Coronavirus blog, the OrganicLea distribution team have been reflecting on the changes, chaos and impact of the last three months across our stalls, box pack and restaurants we supply.
When the first governernment guidelines were announced, we were relieved that our work as key workers on the box pack and stalls could continue, with adjustments. Many of our regular and long-standing volunteers and workers with health concerns were affected by the government guidelines to shelter or self isolate, or couldn't safely travel to work with us. At the same time, many of our customers who had been furloughed or were unable to work stepped in to offer help and so we set about welcoming and training our new team of volunteers – an invaluable contribution to our work and many of whom are still working with us now.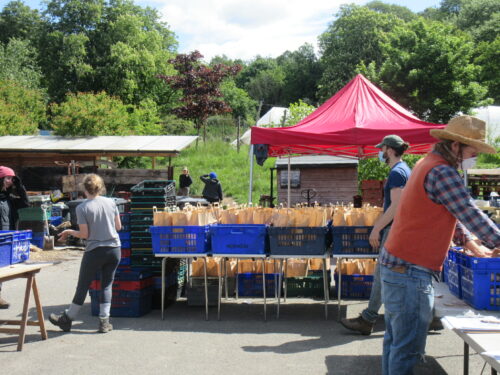 Our box pack and stalls saw an immediate surge in customers and we had the new challenge of managing an increased workload, as demand for our box scheme and market stalls increased by 50% in a few short weeks, while maintaining social distancing. Our box scheme, which usually operates in our packing barn, expanded to take over the classroom, a huge area of outdoor space and some of the glasshouse (when it wasn't too hot!). We bought reusable facemasks and implemented regular handwashing breaks.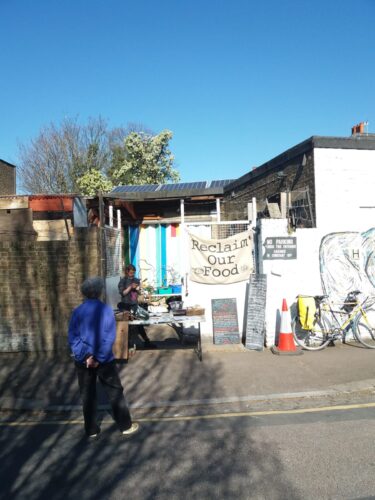 Our stalls remodelled to enable a queueing system and with pricelists written out instead of self-service. With support from our partner organisations The Hornbeam and FRP, our Hornbeam stall was able to move to the yard to allow for a safe stall set-up. The Leytonstone stall was able to continue in its usual location but also with a physically distanced set-up. Additionally, we introduced a Thursday afternoon pop-up stall at our nursery gates for our local Chingford community to be able to access our produce, and had a selection of plants available to buy at each of the stalls. While our stalls sometimes had rather long queues, thank you to all our stalls customers, both regulars and newcomers, for your patience, support and respecting distancing measures.
We tried to accept as many new box scheme customers as we could manage, only closing to new subscriptions for a short period while our small team kept up on emails (we're looking at an automated service to manage new sign-ups in future!). Our immediate limit was pick-up points around the borough which were already full or nearing capacity – as well as the challenge of some of our pick-up points like the Rose and Crown now being closed – but our box building crew sprang into action and we upgraded and increased capacity at many sites so we could keep onboarding new members and keep up with the clear demand for fresh fruit and veg.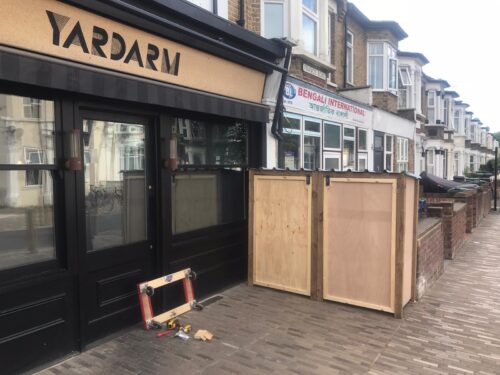 The timing of the pandemic with the produce calendar couldn't have been worse, as it coincided with the hardest weeks of the hungry gap. Winter stores of fruit and veg were running out much faster than usual due to increased demand from retail outlets and customers, and the new spring produce was still weeks away. The country ran out of organic carrots for several weeks and we were relying on a really limited selection of vegetables for variety in the bags. Many Jerusalem artichokes and parsnips later, we're finally now onto the bounty of summer produce.
The dozen or so restaurants across London that we usually supply have been closed, of course, but the produce destined for them has been needed and much appreciated in our fruit and veg bags instead. Certain items we grow specifically for restaurants – courgette flowers and fig leaves, for example, have been harder to place, but on the whole it's not been the hardest aspect of this period for us. Our thoughts are with the chefs and restaurants we have longstanding relationships with, and we look forward to seeing them able to reopen and return to work.
With restaurant sales paused, our box scheme and market stalls were able to take on a broader range of Hawkwood-grown produce available for our customers. From Champagne rhubarb and soft fruit (like jostaberries and gooseberries) to pea shoots and sea beet, these less common items were a special treat on our weekend market stalls.
We operate a closed loop food system, and under usual circumstances and leftover produce from our box scheme goes to our stalls, and then any unsold produce from them is cooked by a kitchen team and becomes Wednesday and Friday lunch to feed our volunteers and workers. Both lunches have been on hold but we're still managing a zero waste system by donating food to the Hornbeam's food rescue centre instead.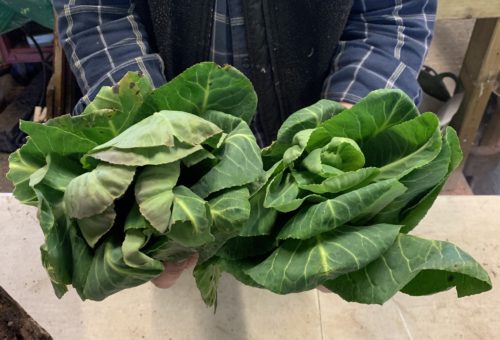 We've been overwhelmed by the positive and supportive responses from our customers during this time, as well as the many offers of help. Despite the hungry gap and some challenges sourcing a variety of good quality items, we're happy that we've been able to distribute ethically sourced and sustainably grown food to so many Waltham Forest residents. While supermarkets were at times overwhelmed, we feel proud that our short supply chain and relationships with food growers remained resilient and that a huge number of our new customers who sought us out during a difficult time have chosen to stay with us and support our work.
Whilst there continues to be uncertainty about what the future holds, if anything, the last few months have proven how essential resilient food systems and supply chains are. Whatever lies ahead, here at OrganicLea, we'll do our very best to keep on keeping on and provide access to local organic produce to as much of our Waltham Forest community as possible. We look forward to a more settled remainder of the year and continuing to grow our network of community food supply through the borough, and as part of a network of Better Food Traders looking to improve our food system throughout London and the rest of the UK.