Wednesday 27th November saw our annual biodiversity day take place at Hawkwood.  This is an event we hold every year, celebrating and building on the awareness and habitats of the pollinators and other creatures we share the 12-acre site with.
This year, again, we had around 40 volunteers and workers on our team, including our current work-based level 1 class and a group from Age UK.  They split across the following tasks:
Maintenance and survey of the 2019 sown Orchard meadow
Cutting back a section of wildlife corridor at the far end of the Orchard around the Hazels
Removing rubble in preparation to line the new pond, which will be filled over winter

Bird nest box survey
Lacewing hotel making
Hedgehog hotel building
Willow hedge laying at the Apiary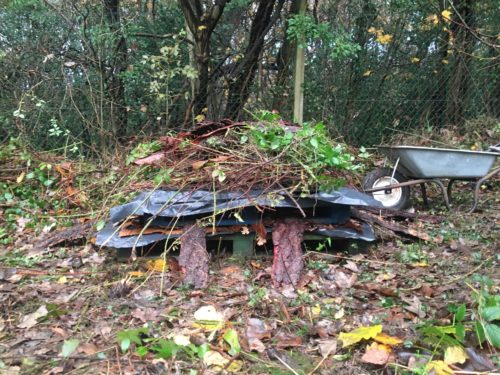 The day went well despite challenging weather conditions and at the end we gathered in the classroom for highlights and reflections.
Some bird boxes have become difficult to access. Three had definite signs of use. While this could be seen as a good thing, it makes them difficult to survey and therefore assess in terms of our positive impact on the bird population.
The Orchard meadow had a good first year, increasing flora diversity of the meadow. Ox Eye Daisy, Ribwort plantain, Self heal, Common Sorrel, White campion, Wild carrot, and yarrow plants were spotted in the newly sown area, all of which were in the seed mix, and of those only common sorrel and yarrow had been logged previously in orchard flora surveys. Foxglove and Hogweed also spotted.
Thanks to everyone that was involved, and to Ella Brolly for the photos!