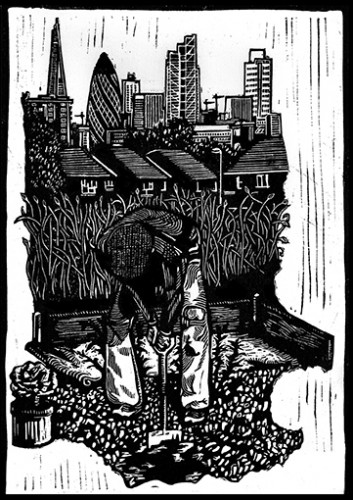 Organiclea are joining with the Community Food Growers Network – a London based group of community food growing projects – for a series of spring events. See below for the full calendar.
28th February:  Three Acres and a Cow: A History of Land Rights and Protest in Folk Song and Story.Performance by Keely Mills, Nick Hunt, Robin Grey, Alex Etchart and Rose.
Time: 8PM -10:30 PM
Location: Grow Heathrow, Vineries Close, Sipson, West Drayton, UB7 0JG.  Directions 
here 
1st March:  Grow Heathrow 4th Birthday Party.
Join us for pizzas in our wood-fired clay oven, with a bigger feats, more face painting, seed sowing, arts, more live music and of course the famous bike-powered sound system.
Starting from 1 PM. Directions 
here
.
6th March:  MIPIM Action: 'London is Not for Sale' –
Demonstration outside London City Hall against the world's biggest property fair, where our cities and our land are up for sale. Bring 'For Sale' signs from your borough- prizes to be won for whoever brings in the most signs. See 
Radical Housing Network
 for more details.
Time: 2PM
Location: London City Hall, The Queen's Walk, London SE1 2AA

8th March: Spring Seed Swap @ Stoke Newington Farmers' Market.
Come and swap your seeds in preparation for the growing season! Don't worry if you haven't got any to bring.
Time: 11AM – 2:30 PM.  Seed Dating @ 1pm – Sow a seed, lettuce get romantic!
St' Paul's Church, Stoke Newington High Street, N16 7UY

7PM – Hornbeam Café, 458 Hoe St, Walthamstow E17 9AH


26th March: Pathways to Food Sovereignty:Speakers & Discussion: What can we learn from other countries in creating community-controlled food systems? As community food-growers what resources and support do we need to achieve this?
7PM-  Hornbeam Café, 458 Hoe St, Walthamstow E17 9AH
17th April: 
 International Peasant's Day: Land Worker's Alliance Demonstration in London, see 
Land Worker's Alliance website 
for more details,
Time: TBC
Followed by:The Peasant's Struggle Pub Quiz,