A great way to support what we do and treat your friends and family too.
The best way to find out how great our box scheme and stall is – eat the produce! There are three vouchers available, they are colour printed and come in an envelope if you wish.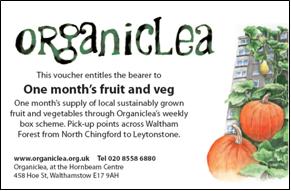 One month's Fruit and Veg £40: One month's supply of vegetables and fruit through Organiclea's weekly box scheme.   Pick-up points across Waltham Forest from North Chingford to Leytonstone.
£10 or £5 To spend on one of Organiclea's fresh local produce stalls in Waltham Forest. Local, fresh, sustainably grown produce grown by and in the community!
You can purchase at our stalls on Saturdays or at the Hornbeam E17 from the Organiclea office on any Wednesday leading up to Christmas.
Your gift will support the local economy – a network of over 30 East London residents  grow and bake for our stall as well as small farmers and growers – and grow a sustainable food system here in East London.
Thank You!

If you would like to buy in bulk by post please email box@organiclea.org.uk