THANK YOU for expressing interest in volunteering at Hawkwood and for patience regarding the restrictions we are having to place on numbers in the Gardens at this time. All our volunteering starts with an induction day.  We currently have 4 different ways to volunteer at Hawkwood.  Please email;  volunteering@ organiclea.org.uk to find out more.
1. Taster sessions for: Wednesday volunteering linked to AQA 'Introduction to Organic Gardening'. This is only for those economically inactive or in full receipt of work-related benefits: Ask to be informed about the next 'taster day' when you can also enroll for a certificate linked to 6 weeks volunteering. This regular volunteering slot is on a Wednesday, 10.15-4.15 and starts with a learning study group and closes with reflective written exercise.
2. Upcoming general induction: Horticultural Assistant roles – allocated induction days from July onwards from 10.30 until 4.30 for anyone who wants to start volunteering in the Hawkwood food gardens, and we ask for a commitment to minimum of 6 sessions after the induction.  Places are limited and we are allocating places based on our recent experiences of what supports people to realistically commit to the sessions. For info, for this opportunity, we are thinking about (i) ease of journey to the site (we are on the very edge of Northeast London and it's common to underestimate how long the journey here can take!), (ii) referred by an existing volunteer (we find this helps people to understand the commitment), (iii) existing connection to OrganicLea – a customer or maybe previous learner here (iv) existing gardening know-how – or at least an appreciatation of the beauty, and toil in a day's work in the field! Volunteering days are either Wednesday, Thursdays (limited spaces) or Fridays at present from 11am – 4pm
3. Start by volunteering with our veg box distribution team on a Wednesday: Our box scheme team are looking for people to commit to coming along on a Wednesday and support the produce organising – into the bags that reach households across the Borough. It's a great way of getting a feeling for what's in season at the moment and experiencing the 'produce meets plates' end of our work (very important in terms of the enterprise end). It also involves coming along to the Hawkwood site, here in North Chingford.
Wednesdays: 9.30am-1pm (to support the box pack – packing veg & fruit) – regular volunteers for fixed terms very helpful right now
Wednesdays: 2-5pm (to support the box pack – completing packing veg & fruit and helping with the clear up) – one or two regular volunteers very helpful for coming month or so
Please email  Heidi at: volunteering@organiclea.org.uk as she organises the rota for the box team, and can also share a little more about the responsibilities and insights gained by being with us in this way for the next few weeks. It will support moves you might want to make into the gardens later on. Please let Heidi know you would like to join a horticulture induction after a set number of sessions with the box pack team.
Just a helpful note – that if you don't know where we are located (or haven't been here before), do check it out. We are right on the edge of Northeast London and the trek can take people by surprise: https://www.organiclea.org.uk/contact-us/
Please continue to take care and stay safe. Do read the Covid-19 precautions below. Our hope is always that a commitment to volunteering fits your own learning and 'just being' goals too. If you are still keen to explore options with us – please get in touch and share which of the above might mean most for you and this could be more than one option at this stage.
Sharing best wishes,
Clare [volunteering@organiclea.org.uk]
We are currently following Public Health England guidelines linked to volunteering which may be subject to change. We will review and update our own guidelines accordingly. Please only volunteer if you can agree with every guidance statement below:
1. You are able to travel to our site without using public transport OR via quiet/off-peak public transport routes (overground rail or buses). You will need to be able to travel without using the London Underground. If using buses or trains – you must use a face covering for the journey and be able to maintain 2m distance from other passengers at all times.
2. You are currently in good health and displaying no symptoms of any illness.
3. If you live in shared accommodation – none of the people you live with have displayed symptoms of any illness in the last 14 days.
4. We ask that if you are informed someone has tested positive for Covid19, that you have been in touch with/shared premises with over the last 14 days, you do not come in for 14 days, and inform us so we can keep track of this.
5. We ask that volunteers are able to work independently in order to maintain a 2m distance from each other.
6. For horticultural volunteers – we are asking volunteers to commit to a minimum of 6 sessions so we can limit the amount of people on site.​​ All volunteering (horticulture and box team) is managed with a sign-up in advance, register of attendance system – effectively a daily rota. This allows us to manage the number of people on the site at any one time
7. Volunteers will need to bring a packed lunch and ideally their own personal items (e.g. cups, gloves, waterproof wear).
Our volunteering programme runs as follows in normal circumstances:
Volunteer inductions: 
If you'd like to volunteer with OrganicLea please email volunteering@organiclea.org.uk or call 020 8524 4994. If you would like to refer someone to volunteer with OrganicLea please contact us to discuss their needs and arrange a volunteering taster day.
We ask all volunteers at Hawkwood to come to an induction to start their volunteering. You need to register with us in advance by emailing volunteering@organiclea.org.uk  so we can regulate volunteer numbers, and you can let us know any particular volunteering interests you have.
All inductions are from 10:30 am – 1pm and you are encouraged to stay for lunch (currently provided on Wednesdays and Fridays) and join our afternoon volunteering session in the gardens from 2-4pm. This allows you to get a real sense of how the days work. Please dress for the outdoors.
If you can't make any of these induction dates but would still like to volunteer, please email volunteering@organiclea.org.uk.
Volunteer days:
Wednesdays, Thursdays and Fridays from 11am-4pm are our regular volunteer days. They are full days with lunch provided on Wednesdays and Fridays.   We also usually have a monthly Sunday volunteer opportunity – unfortunately this is currently suspended.
Wednesdays 11am-4pm, with lunch provided from 1-2pm. Veg box pack 10am-1pm.
Thursdays 11:00am – 4pm.  Bring a packed lunch.
Fridays 11am-1pm and 2-4pm. Lunch provided 1-2pm.
Tuesday afternoons by prior arrangement.
The outreach team and Saturday market stalls by arrangement.
Regular volunteer roles:
There is always a range of seasonal activities to do, both in the glasshouse and outside, some more energetic (lifting, shovelling) than others (seed sowing, harvesting). On Fridays we focus our attentions on fruit, on Wednesdays we turn our attention to vegetable production.
Wednesdays 11am-4pm, Thursdays 11am – 4pm, Fridays 11am-4pm and Tuesdays 1.30-4.30pm. If you are interested in getting involved in growing food at Hawkwood please email volunteering@organiclea.org.uk or call 020 8524 4994.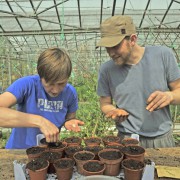 Would you like to make supporting others a bigger part of your volunteering? We currently have 2 volunteer learning placement roles (for 7 people) that involve partnering with individuals or groups to enable them to participate and build initial confidence to achieve agreed goals, or ask you to be a 'mindful presence' on horticultural and other tasks. These are 3 month placement opportunities with guided learning support. Start dates happen across the year. Full details of the current 2 different roles are here.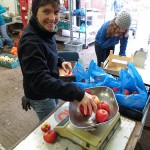 Feed Waltham Forest! Every Wednesday a team of volunteers helps us to pack local, organic veg bags for box scheme customers all over Waltham Forest. Volunteers weigh and sort fruit and veg and put them in bags. This role is suitable for volunteers with a wide range of physical abilities.
Wednesdays 10am-2pm. If you are interested in helping with the veg box scheme please email volunteering@organiclea.org.uk or call 020 8524 4994.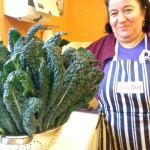 On Wednesdays we sit down to a shared lunch together. Volunteer cooks, led by a Cooking Teacher, help to prepare a healthy, vegetarian lunch using ingredients harvested from our site, or from other local growers.
Wednesdays 10am-2pm. If you are interested in joining the cooking team and learning about cooking with seasonal food please contact volunteering[at]organiclea.org.uk or call 020 8524 4994.
Help out on our Saturday market stall outside the Hornbeam Cafe in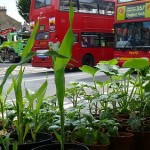 Walthamstow. Talk to customers, learn about the produce and gain customer services skills. Volunteers commit to a monthly shift on the stall or provide occasional cover  as needed. Lunch at the Hornbeam Cafe is provided. To find out more about helping on the stall please contact volunteering[at]organiclea.org.uk or call 020 8524 4994.
Horticultural training alongside volunteering:
Our work-based horticulture courses are an opportunity for volunteers to achieve a recognised qualification alongside structured weekly volunteering.

Open days:
If you would like to just get insight into Organiclea's work – then the Open Days are this opportunity (not the volunteer inductions which are designed to support those who are developing their ideas about volunteering).
Check back on the website later on in the year to hear more about when we will next be holding an open day