In April we are not running our regular monthly inductions. If you are interested in volunteering please email volunteering@organiclea.org.uk and we'll let you know if we have any current opportunities. Please be aware that we can't always respond to emails immediately.
Volunteer inductions: 11-1pm on first Wednesday and third Friday each month. Registration is required during this time, so we can manage numbers.
If you'd like to volunteer with OrganicLea please email volunteering@organiclea.org.uk or call 020 8524 4994. If you would like to refer someone to volunteer with OrganicLea please contact us to discuss their needs and arrange a volunteering taster day.
We ask all volunteers at Hawkwood to come to an induction to start their volunteering. You need to register with us in advance by emailing volunteering@organiclea.org.uk  so we can regulate volunteer numbers, and you can let us know any particular volunteering interests you have.
All inductions are from 11am – 1pm and you are encouraged to stay for lunch (currently provided on Wednesdays and Fridays) and join our afternoon volunteering session in the gardens from 2-4pm. This allows you to get a real sense of how the days work. Please dress for the outdoors.
If you can't make any of these induction dates but would still like to volunteer, please email volunteering@organiclea.org.uk.
Volunteer days:
Wednesdays and Fridays from 11am-4pm are our regular volunteer days. You are welcome to come for a half or full day and stay for lunch, and to volunteer regularly or on an ad hoc basis. We also usually have a monthly Sunday volunteer opportunity – unfortunately this is currently suspended.
Wednesdays 11am-4pm, with lunch provided from 1-2pm. Veg box pack 10am-1pm.
Fridays 11am-1pm and 2-4pm. Lunch provided 1-2pm.
Tuesday afternoons by prior arrangement.
Last Sunday of the month 9.45am-1pm. Bring a packed lunch and stay around to enjoy the Open Day activities in the afternoon.
The outreach team and Saturday market stalls by arrangement.
Regular volunteer roles:
There is always a range of seasonal activities to do, both in the glasshouse and outside, some more energetic (lifting, shovelling) than others (seed sowing, harvesting). On Fridays we focus our attentions on fruit, on Wednesdays we turn our attention to vegetable production.
Wednesdays 11am-4pm, Fridays 11am-4pm and Tuesdays 1.30-4.30pm. If you are interested in getting involved in growing food at Hawkwood please email volunteering@organiclea.org.uk or call 020 8524 4994.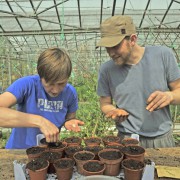 Would you like to make supporting others a bigger part of your volunteering? We currently have 2 volunteer learning placement roles (for 7 people) that involve partnering with individuals or groups to enable them to participate and build initial confidence to achieve agreed goals, or ask you to be a 'mindful presence' on horticultural and other tasks. These are 3 month placement opportunities with guided learning support. Start dates happen across the year. Full details of the current 2 different roles are here.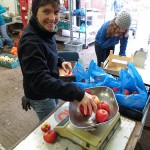 Feed Waltham Forest! Every Wednesday a team of volunteers helps us to pack local, organic veg bags for box scheme customers all over Waltham Forest. Volunteers weigh and sort fruit and veg and put them in bags. This role is suitable for volunteers with a wide range of physical abilities.
Wednesdays 10am-2pm. If you are interested in helping with the veg box scheme please email volunteering@organiclea.org.uk or call 020 8524 4994.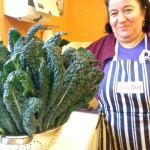 On Wednesdays we sit down to a shared lunch together. Volunteer cooks, led by a Cooking Teacher, help to prepare a healthy, vegetarian lunch using ingredients harvested from our site, or from other local growers.
Wednesdays 10am-2pm. If you are interested in joining the cooking team and learning about cooking with seasonal food please contact volunteering[at]organiclea.org.uk or call 020 8524 4994.
Help out on our Saturday market stall outside the Hornbeam Cafe in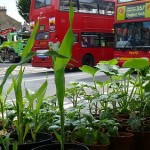 Walthamstow. Talk to customers, learn about the produce and gain customer services skills. Volunteers commit to a monthly shift on the stall or provide occasional cover  as needed. Lunch at the Hornbeam Cafe is provided. To find out more about helping on the stall please contact volunteering[at]organiclea.org.uk or call 020 8524 4994.
Horticultural training alongside volunteering:
Our work-based horticulture courses are an opportunity for volunteers to achieve a recognised qualification alongside structured weekly volunteering.
Upcoming work-based courses:
City & Guilds Level 1 work-based horticulture – Wednesdays starting 21st February 2018 for 9-12 weeks – 10am-4.15pm
Work-based Horticulture Level 1 Award (City and Guilds)
This qualification involves minimal classroom time (45 minutes first thing, then 30 minutes end of day) and 9-12 weeks of guided horticultural practice. During this time you will practise food growing techniques and experience the realities of a productive horticultural work place. You will develop a work-book portfolio with reflective worksheets.
Please contact clare@organiclea.org.uk for further details.

Open days:
If you would like to just get insight into Organiclea's work – then the Open Days are this opportunity (not the volunteer inductions which are designed to support those who are developing their ideas about volunteering).
We hold Open Days at Hawkwood Community Plant Nursery on the last Sunday of each month from 12pm – 4pm. Just show up and join in.

Volunteering with children:
If you would like to volunteer with a child please email volunteering@organiclea.org.uk or come along to one of our monthly open days.