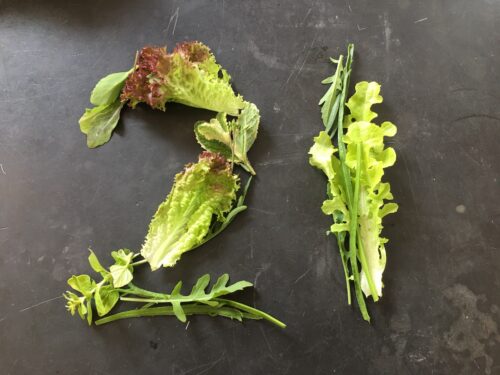 Dear 21st birthday ticket holders,
We look forward to sharing in this celebration with you! Here is the programme so you can get a sense of what's (probably) happening on the day, with plenty of space for catching up and connections too. Further information on how to get to the site and what to bring is below.
Stalls
Winter plant sale, farm stall, learning info stall, coffee and cake, bar, lunch from chef Ollie Launay and friends, pizza from The Gleaners, Rose Music mocktails, GrowManahan produce and punch, low carbon distribution display…
Site tours  
A range of general and themed site tours on offer through the day. Sign up at the plant stall.
Gallery and cinema
Visual displays of Organiclea's 'how did we get here' story.
Workshops and talks
12.30 Proud to Be a Coop
An exploration into how the workers' cooperative at the core of OrganicLea is organised, and why we think cooperation and collective self-management can change the world for the better.
12.30 All about Mushrooms
Former OrganicLea member Darren Springer shares his passion for mushrooms, their history and value in indigenous cultures, mythology and cultivation
1.30 Herbal tea and meditation
Herbalists Rasheeqa Ahmed and Amber Badyari lead you in a herbal tea-infused meditation.
2.00 Winter Plants
Keep your garden and your plate green over the coming cold months! Get tips on planting and aftercare for your winter seedlings so you can look forward to a vitamin and mineral-packed winter harvest.
2.00 Food and Farming in the Last and Next 21 Years
Panel discussion on the wider food system context.
 3.30 Seed saving and seed sovereignty
Helene Schulze from the London Freedom Seed Bank leads a session on the importance of seeds.
3.30 Design for Life: All about Permaculture
Graham Burnett explains how permaculture design can help us create empowering solutions to the real world challenges we are all facing in these times of change.
 3.30 How did we get here?
Q&A at the gallery with OrganicLea coop members – how it all started, and what happened along the way.
Music, poetry and crafts
12.15 Young family storytelling
Lottie from Magic Box invites children into a themed imaginary adventure.
1-5pm Drop-in Forest Time for young families
Woodland creature mask-making, songs and nature-based exploration for children and their grownups, in the Magical Realm.
2.30 Open mic poetry and music
Auntie Maureen is MC for a session of food- and land-inspired poetry and maybe a song or two..
 2.30 Artist in the Glasshouse
Join Juliette Ezavin at her installation in the glasshouse, Collection of Sand II. An encouragement to look, and then look closer.
3.45 Three Acres and a Cow
Learn about land rights through folk song and story, with Robin Grey and Kath Hallewell.
4.30 Drumming session
Drum with Seneke Sillah from Mbilla Arts, warming up to lead the…
5pm Plants and People Procession
Ending in a closing ceremony, with Rose Music.
Aiming for minimal waste
We operate a minimum waste site which means trying to re-use, recycle or compost whenever possible.  
We will be using some compostable plates and cups as well as china but to minimise this you can also bring your own cup; or buy one of our memento cups. We'll have clearly marked separate bins for cooked food waste, compost and recycling so please help us with carefully getting the right things into these!
Getting around on site

Please remember that our site has uneven ground, ponds and produce areas which should not be walked on or harvested from. Suitable footwear recommended. Dogs are welcome but should be kept on a lead.
Getting here
Hawkwood site will be traffic-free on the day so here are the transport options:
By bicycle: all welcome to join a family-friendly bike train from Walthamstow to Hawkwood via quiet routes! Gather at the basketball courts in Lloyd Park at 11am, the bike train will depart at ten past. Bicycle parking is available for on site for all cyclists and emergency bike first aid also on offer.
By public transport: all the train and bus options are listed on our website here, including directions for walking through the forest from Chingford Station. No known strike or engineering works planned on the 3rd.
By car: disabled access parking will be available on site (if possible please let us know in advance by replying to this email). Otherwise if you can avoid coming by car that would be welcomed, as we can't accommodate other cars on site. If you need to come by car we request that you find parking nearby and walk up to the site. Of course you can drop passengers off first and we will help with transporting any plant purchases etc back to your car.