Live Q&A session Friday 4 September 5.30-6.30pm, register here
Market Garden City
We've been quietly working on plans to develop our growing site in Chingford over the last year and we're delighted to have been awarded £1.2 million from the Mayor of London's Good Growth Fund that will see our vision come to life.
The 'Market Garden City' project aims to create and expand on our existing work that sees our community engage in sustainable food growing, food distribution, healthy eating and cooking, and nature connection through volunteering, training, employment and enterprise.
The funding will help us and the Wolves Lane Centre in Haringey to create new facilities that will support both sites to thrive as vital pieces of community infrastructure in London.
We're excited to set a powerful precedent for the integration of community and green space in London, starting in Waltham Forest and Haringey.
What's happening at Hawkwood?
At Hawkwood we're working with Practice Architecture, who have developed significant expertise in the use of low carbon technologies and construction systems. The new buildings will provide a crucial example of low-impact construction techniques and materials that can be delivered at scale, which the construction industry urgently needs to adapt to in the face of the climate emergency.
We are making a planning application for a 3-phase plan. Phase 1 will be financed through the GLA award.
Phase 1 is a 150m2 flexible Hall building, usable as a single open hall or three independent spaces as kitchen, classroom, meeting room. Our ideal location is at the south side of the glasshouse, currently we're assessing the roof profile and siting to ensure that shading on the glasshouse is avoided
Phase 2 is landscaping around the building to form a natural amphitheatre, space for outdoor learning and community gathering.  Phase 3 is another 150m2 building next to the Hall, to incorporate office, farm shop, volunteer space and classroom.
In addition to buildings, landscaping and storage, solar panels and a borehole will support the site's self-sufficiency.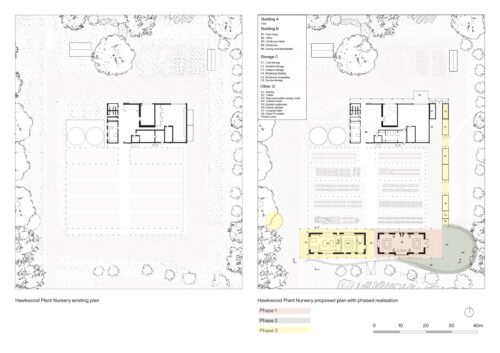 What's the timeframe?
We are gathering feedback on the plans in August-September 2020 so we can finalise the designs to submit a planning application in November, with construction for the Hall building to start in summer 2021. Please complete the survey to tell us what you think about the plans and whether you would be  interested in being involved in the community construction phase of the project.
What about Wolves Lane?
You can see the plans for Wolves Lane here.