Sunday 25 November at Hawkwood Plant Nursery
Our last open day of 2018 includes seasonal seed-saving, a talk on bees and the bee crisis, Bee Wild children's activity and good food and drink offerings for gift buying or consuming on the day! We also invite you to plan and place an order for Gary's Ho Ho Ho Hampers (and please bring your spare large pots)  – improving life chances through horticulture. And we welcome back Raybel Charters with their Sail Cargo Olive Oil. More details below.
Open Day
10-1 Seasonal Blitz morning: our weekend volunteering opportunity, join us at 9.45 for a 10am start. This month's focus is on harvesting and saving seed from this year's crops to start next year's.
11-1 Kids Kitchen: children cook up their own seasonal feast .. and eat it together! Places are limited for this and there is a small fee to cover costs – book online here, select bookings, then Organiclea.
12-4 Coffee, cake and delicious locally grown lunch, the Hawkwood bar serving damson porter, mulled wine, elderflower wine and hopped mead to drink or buy for gifts. Our farm stall has Hawkwood produce, jams, pickles, vinegars and herbal teas for sale. We welcome back Sail Cargo – organic olive oil from farmers in Portugal brought by sailing ship. And Gary's Ho Ho Ho Hampers – place an order for an alternative seasonal treat (see details below).
12-3 Bee Wild fun -free drop-in session with bee and pollinator-related games for children and families.
1.30-3 World of the Bee – join Sean Hearn for a talk on how we carry out natural beekeeping practices at Hawkwood, the bee crisis and what we can do about it.
3.15 Site tour: – learn about the site's design and growing stories.
Directions to our Hawkwood site including bus, rail and river-cycle routes and the way through the woods are here. Parking is available at the site but space is limited so please come by other means if possible.
Able, Capable and Employed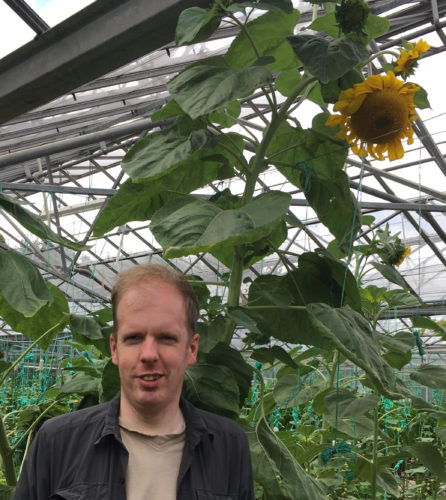 In September Organiclea was delighted to employ Gary Leeder – a regular volunteer at Hawkwood and Level 2 work-based Horticulture graduate with us. This was possible within the 'Able, Capable and Employed' London-wide programme that assists those considered to be a long way from employment into more supported opportunities. Gary's job title is 'Community Horticultural Assistant – Disability Confident': he is committed to supporting us to become a more disability-confident employer and has spoken at local events about his journey.
One of the projects Gary is curently leading on is designing seasonal growing hampers: pots of living salads, herbs and winter flowering colour that can be gifted to family and friends as an alternative seasonal treat. Go on: supply your friends with some seasonal fare, grown up at Hawkwood and germinated by Gary's enthusiasm and passion for gardening and improving his own life chances through horticulture.
*Please donate any unwanted oversize / large pots to this project
*Visit Gary at the Hornbeam market stall, E17 on Saturdays leading up to Christmas, starting 24 November, or at the Hawkwood Open Day, E4 on Sunday 25 November.
Sail Cargo
Raybel Charters return with their second cargo of sail freighted goods – transported during October on the 1904 former trading ketch
Bessie Ellen
 from Portugal.
They now have olive oil from two farmers in Portugal – Reigado from the Coa valley close to the border with Spain, and Caixero from Tras-as-Montes. Both with the same goal: to make  olive oil in harmony with the local ecosystems, nurturing both people and planet from soil to serving. Both extra virgin olive oils are organic and certified by an IOOC laboratory.
5 litre containers will be available for purchase on Sunday – or bring your own bottle and fill. Price is still £50 for the 5 litres, £10 for one litre. E-mail info@raybelcharters to order in advance.