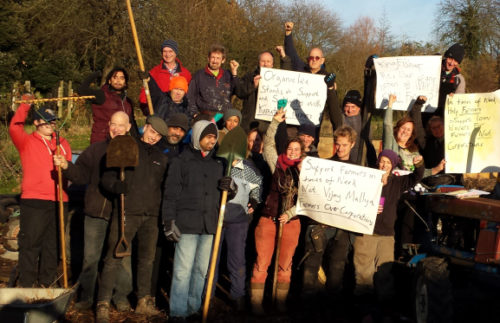 Join Organiclea to march for good food with the Landworkers' Alliance, on Sunday 14th October 10:00 – 12:00. Meet in Parliament Square, London to demand a better food system ahead of World Food Day (on October 16th) and the second reading of the UK's Agriculture Bill.
The march will proceed along a direct route to the Bargehouse Gallery (opposite the Oxo Tower) where speakers will deliver talks as part of the We Feed the World exhibition.
Jyoti Fernandes, Campaigns Coordinator for the Landworkers' Alliance, says:
"As we leave the European Common Agricultural Policy the UK agriculture bill will determine the future of our food system for the next 50 years or more. If you want that food system to support farmers to produce healthy, affordable food for everyone please join us."
The Landworkers' Alliance is a grassroots union representing farmers, growers and land-based workers.