Come and join us at Hawkwood on Sunday 28th October as we celebrate moving the box scheme packing to Chingford with an afternoon of seasonal food based fun.
We launched our local veg box scheme 3 years ago when the prospect of it outgrowing our current packing space at the hornbeam was but a twinkle in the co-operative eye.  Now, with thanks to a great team of dedicated volunteers and a growing customer base , we are happy to announce that the weekly packing and logistics of the box will be moving up to the Hawkwood Plant Nursery site. This will help us provide more boxes of local organic vegetables to more people in Waltham Forest, supporting sustainable g food production and the local economy.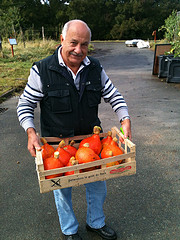 The launch event for the new packing space will take place on Sunday 28th October from 12pm-4pm and offers an opportunity to visit the Hawkwood site where much of the veg in the boxes is grown, and find out more about Organiclea's work as a community food project. Also on offer for those dropping by will be a mushroom cultivation workshop,  hot pumpkin & apple soup, traditional apple pressing and chutney making. The Organiclea farm stall will have a wide range of autumnal local produce for sale including squash and apples.
At 2.30pm there will be a toast with local apple juice as Minister Jonathan Mead cuts the ribbon for our Box Scheme opening ceremony.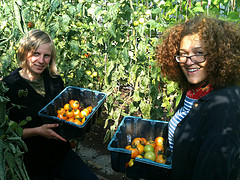 The open day also welcomes local residents who have been part of Organiclea's 'Adopt-a-tree' scheme and who have enabled the creation of the orchard at Hawkwood Plant Nursery. This will include a special site tour of the fruit trees and a chance for members to check the fruiting growth of trees planted with their support.
Organiclea's veg boxes start from just £5 per week. Produce comes from Organiclea's growing site at Hawkwood Plant Nursery and from Organiclea's 3 main partner farmers in Essex and South Norfolk.  Most produce is harvested and packed within 24hours for freshness, longevity and flavour. Veg boxes are delivered weekly on Wednesday afternoons to 9 local pick up points, including Hawkwood Plant Nursery and a new pick up next to Chingford Station on Buxton Rd, E4.  Have a look at the box scheme pages on this website for more information, or come along on the day.
For more info contact Adam or Hannah at box@organiclea.org.uk