For many years we have been making good use of surplus fruit in Waltham Forest and surrounds, by picking from street trees and in gardens where the residents are unable to pick or make use of all the fruit. Mainly apples and pears but also plums, cherries, figs, grapes, nuts and soft fruits too.
We bring small teams of pickers to local residents who want help harvesting the fruit from their trees. We offer them 25% of the fruit collected and distribute the rest as fruit, jams, pickles and juice through the market stall and café at the Hornbeam Centre and at the Apple Day at Vestry House Museum. Any surplus raised is put back into the community projects. Come along to Hawkwood Nursery on Sunday 27 September to see the apple press in action.
If you have more fruit than you can handle, please let us know. Contact us when your trees are ready for picking – call 020 8524 4994 or email plants[at]organiclea.org.uk
We also welcome donations of fruit if you are able to pick it yourself, as we can't always guarantee to get to all the trees on offer. Bring your fruit to the Hornbeam Centre on a Saturday (10-3) or Monday (10-5), or to Hawkwood Nursery on Wednesday or Friday (10-5).
If you'd like to join the team of volunteer pickers and pressers (Thursdays and Fridays from mid September to mid October), please contact Jo on 020 8524 4994 or jo[at]organiclea.org.uk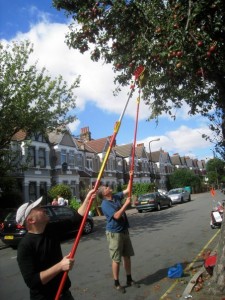 Bake bread…
With the Hornbeam Bakers' Collective – local residents who have been baking regularly for the Saturday Stall and cafe come rain or shine for over three years alongside their other busy and exciting lives!
Bake cakes…
We are also looking for local cake-makers – who are excited about baking with local seasonal veg and fruit and no dairy. We'd love to sell your cakes on the stall!
Other processing…
If making the most of a glut of tomatoes is your kind of thing, or you find yourself standing on Hackney marshes planning six kinds of recipe with Blackberries in come autumn, please get in touch – and we will get passionate about processing!