Pathways into paid work
There are many different paid work opportunities in the food sector in London. These case studies provide some examples.
Case Studies
Gary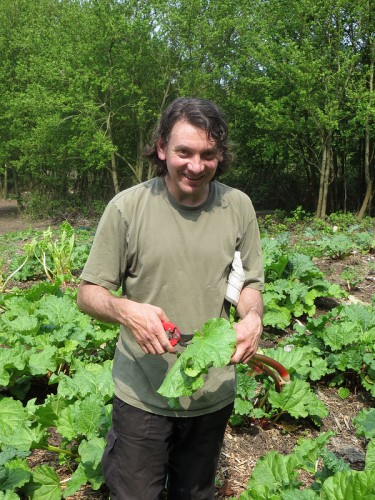 I started attending an Introduction to Gardening Skills at Organiclea because I have always enjoyed gardening and I wanted to find work which was rewarding. After three or four sessions of the course, I started volunteering at Organiclea regularly. The volunteer sessions were really useful in putting what I learned on the course into practice and giving me a chance to learn new skills. I decided to carry on studying and did the Level 2 Certificate in Organic Gardening. While I was on this course, I got a position as an apprentice grower working at Organiclea. My work involves helping in all the stages of food production from seeding to harvesting and helping with teaching and training volunteers around the site.
There is a real buzz around volunteering and working at Organiclea- it helped me turn a hobby into a job.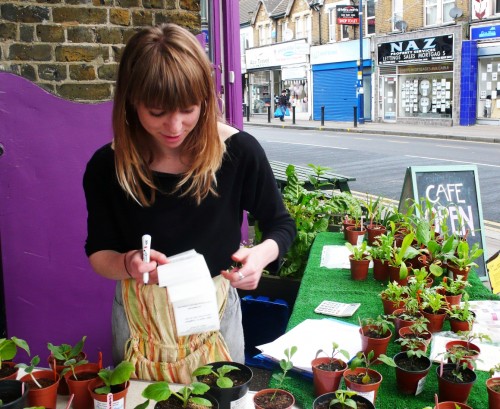 Holly
I enrolled on a Level 2 course a few years ago having no real knowledge of gardening. That spring I managed to get a work placement at Organiclea through a fund to help young people get paid work experience. I completed six months at Organiclea and learned an incredible amount about plants and people in the community. After some time away, I applied for Organiclea's Adult Learning Traineeship where I've helped at a children's centre for young mothers, on a course for adults with learning disabilities, on a level one gardening course and I have recently been delivering half hour teaching slots to volunteers at Living Under One Sun Community allotment in Tottenham. I have really enjoyed having the opportunity to do so many different things with my training.
My next step will working as a gardener in a primary school in Newham. The position is full time, permanent and funded straight out of the school's budget. I will be designing the school grounds to incorporate food growing into the culture of the school and working closely with a chef who will be using the plants in the kitchen in cookery classes. With the help of teachers, I will create lessons for the students that link into their subjects. The school's long term goal is to act as a training hub to other schools who would also like to adopt the Open Futures curriculum. I'm very excited to see how this project will develop! I also feel I have the support of Organiclea in terms of resources, advice and community links which is a great feeling.
Organiclea has opened so many doors for me. Perhaps most importantly, on a personal level, I have found that working within the organisation has helped me feel connected to my local area and positive about the future.
Darren
I started attending Organiclea as a volunteer with my children. Soon after that I started the Level 1 Organic Gardening course. I have been involved with Organiclea for around 2 years now, I've earned my Permaculture Design Certificate and recently completed my Level 2 in Organic Gardening at Organiclea.
I am currently working at Organiclea on a roof garden project, delivering gardening workshops for young people in east London. I also volunteer once a week at a local primary school gardening club.
For me, I am interested in working in food growing for the healthy living. I am inspired by learning from nature.
Asia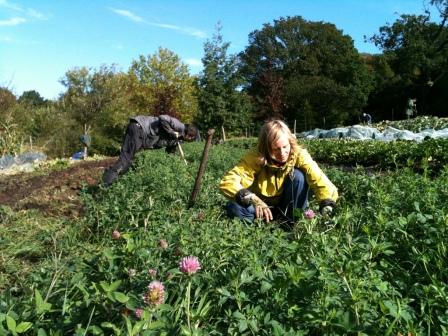 I was an Organiclea's trainee with the focus on volunteer support and social inclusion from spring to winter, 2012. My role involved one-to-one and group work in practical horticultural tasks with adults with additional support needs, such as dementia. I also assisted a gardening class for adults with learning disabilities, in which I helped with holding practical learning activities. Evolving from my role was also support for a local advocacy group of young people with learning difficulties in envisioning and re-creating a garden space around their organization's building.
For me, food-growing has a deep and simple potential to connect people with more encompassing attitudes of care and wellbeing
Since the apprenticeship, I have worked as community gardener with the Ground Work, where I was responsible for assisting small organizations and residents' groups in developing a vision and program for transforming collectively neglected land into community food-growing spaces, as part of Transform and Edible East campaigns. The role focused specifically on linking food-growing with the issues of waste and recycling, by delivering a range of workshops and inspiring people to consider broad range of sustainability issues, around and through the process of food growing.
Anna
I started volunteering a couple of years ago at Organiclea, and enjoyed it so much I decided to learn in a more structured way. Formally signing up for a course meant I could maintain my attendance without other commitments getting in the way (which is often the case when volunteering) and learn how to grow food. The level 2 course has built my confidence and taught me far more about organic food production and sustainability than I expected.
I now work part-time at the Hornbeam café in Walthamstow.  My husband and I have also set up and now run a vegan hot food stall on Sundays at Haringey Market. I also do paid gardening work with a colleague I met on the Level 2 course. I will continue to volunteer at Organiclea and also am looking at further opportunities related to food production, cooking and selling food, and reducing waste.
Through sowing seeds, digging holes, planting & harvesting food I feel more of a connection with nature & the seasons. I'm inspired to think more about my lifestyle choices & really enjoy the opportunity to cherish & celebrate the simpler things in life.
Ben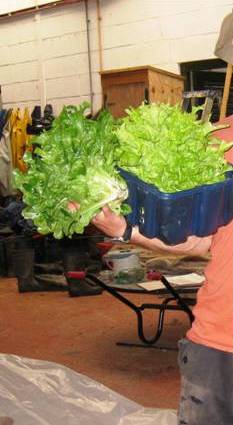 Last year, I started volunteering on Tuesdays at Hawkwood. I really wanted to start growing food but had no idea how to get started so I thought the best idea was to work with people who knew how do it. Everyone at the Hawkwood site are brilliant and happy to talk, I felt that I learned lots more working there and talking to people than I did studying the books. I would recommend to anyone who wants to learn how to grow food or who just wants to be involved in the process, to go down to Hawkwood and get stuck in.
Earlier this year I started volunteering with the Organiclea community outreach programme, we were working on baron allotment plots and rogue bits of organic space in Leyton for member of the community to grow their own food. I ended up managing a small space for Organiclea's grow to sell scheme. It was a really good opportunity to get into something new. I am growing oriental vegetables to hopefully put together stir fry bags for people to try. Also earlier this year I got an allotment plot where I am using lots of methods that I learned from working with Organiclea, its almost like a mini Hawkwood. Here I am growing all the vegetables that I usually buy so hopefully this year me and my friends can enjoy food that has been produced by our own hands.
 One thing that really inspires me about this kind of work is watching things grow. You can read into the science all you like but to me it's the work of pure magic; When working on my allotment I spend most of my time just looking at the plants in amazement
Page last updated on November 21, 2013 at 11:20 am