We launched the OrganicLea "Farm Start" project in 2015 as part of our work towards a more socially and environmentally just food system for all. This project involves supporting, coordinating and enabling the creation of new grow-to-sell food growing projects. One of our long term goals is to be just one amongst hundreds of similar projects within London and beyond!
Farm Start was born out of a desire to address various specific issues, alongside our wider system change goals. For one thing, many skilled growers come through our training and volunteering pathways, and we want them to be able to find meaningful employment within community food growing projects. We are also aware that there are many more trained growers out there who would love to be part of a project like OrganicLea, but we simply do not have the capacity to create employment opportunities for all the skilled and enthusiastic growers out there.
We are also committed to buying in any extra produce (beyond what we can grow ourselves for our box scheme) from small-scale and ethical producers who are as local as can be. The demand for our produce is huge, and we want to be able to meet that demand, or support others to meet it directly, rather than seeing potential customers going to less sustainable producers instead.
In order to make these goals a reality, some dedicated OrganicLea workers were tasked with the challenge of finding suitable and available land. Initially, it all looked fairly straightforward, with various neighbouring councils committed to the idea of providing their residents with something as magical as OrganicLea's Hawkwood Community Market Garden. However, the reality of gaining access to land took much longer than any of us had expected. In the meanwhile, we created training plots on our local allotments for budding independent growers, built up a sizeable database of these "farm starters", offered training opportunities specifically tailored to their needs and spread the word about our land search far and wide.
We found that our farm starters all had diverse needs. A group of four needed all sorts of support in order to form a cooperative and take on a 7 acre growing site that Haringey Council has kindly agreed to lease to OrganicLea at peppercorn rent. Others needed small spaces to incubate big ideas from. A couple of farm starters are undergoing intensive training in salad production at Hawkwood in this growing season, with the aim of us helping them set up their own salad growing enterprises in the next. Some of our farm starters now run a growing site funded by one of our most loyal restaurant customers (the delicious Clove Club in Shoreditch), who have been dreaming of their own little farm for years. Yet another needed a loan to help her get started, so we are trialling a loan-to-be-repaid-in-produce over the course of the next two years. Two farm starters even acquired some land just outside of London and would like to find growers to rent some of it at an affordable rate, with a potential outcome being a collective of vegetable producers.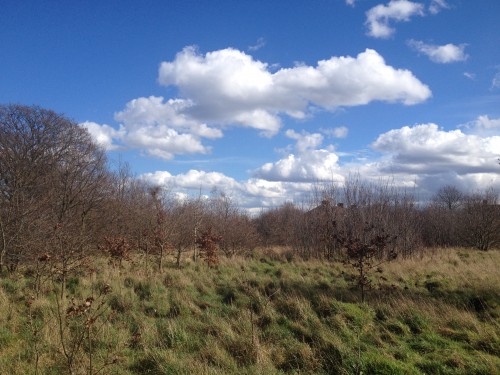 Pasteur Gardens, a 7-acre abandoned sports ground being brought into use by a group of farm starters
Unlike other farm start projects, we do not have a set formula for what we provide. As long as our capacity allows us to (currently funded by the generous support of the Esmée Fairbairn Foundation), we are happy to add experienced growers who are ready (or almost ready!) to take on their own projects to our farm starter database, and to provide them with tailored support including advice, connections, training opportunities, access to land and markets, etc.
After a very land-less start, we are now in the fortunate position of not having to look desperately for any scraps of land from which we could conceivably support someone to make a viable living. There are new projects in the pipeline for next year, including some land being made available to us at peppercorn rent by an enthusiastic and forward-thinking young farmer in Hertfordshire.
However, we are still interested to hear from you if you know of any land that might be suitable for a farm start project. The following criteria would make a site ideal, but lots of great sites don't tick all these boxes from the outset.
At least ½ acre-sized plots of land suitable for horticultural use (although some smaller plots can be real gems and we are happy to re-build soils too)
Good drainage
South(ish) aspect
Vehicle access / hard standing area
Indoor covered space for potential office / tool sheds / machinery sheds / packing sheds (or hard standing for creation thereof)
Water points for irrigation or potential to bring in water
Electricity or the potential to bring in electricity
(for office / packing area).
Covered growing space (polytunnels or glasshouses)
ideal, though we can bring these in.
Wind breaks / hedges (or potential for)
Within 1 hour's travel from OrganicLea's Hawkwood Community Market Garden
In terms of access to land, we would also like to encourage everyone to participate in supporting the Community Food Growers' Network's campaign to include progressive goals regarding access to land in the new London mayor's "London Plan". There is a lot of unused land out there that technically belongs to the people! Much of it is being sold off for profit to keep local authorities afloat, but together we can prove that these assets are more valuable to the community if they are transformed into food growing projects rather than being sold to developers.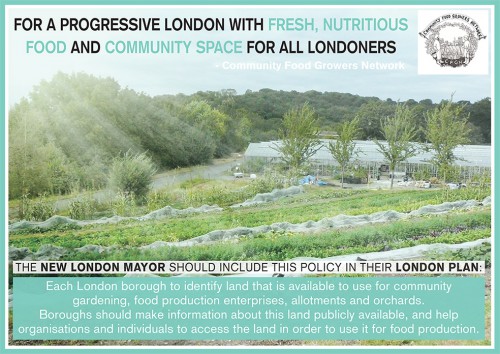 Community Food Growers' Network (www.cfgn.org.uk) use a Hawkwood image for an excellent cause
If you are interested in joining our Farm Start project, would like to suggest potential sites,  or have any other related suggestions or questions, please contact: farmstart@organiclea.org.uk
We are grateful to the Esmée Fairbairn Foundation, Enfield Council and Haringey Council for their invaluable support with this project.